As a communications major, you have access to an extensive network of fellow students and alumni with a passion for the industry. You'll learn the foundations of communication while keeping up to date on high-tech digital audio/video equipment in professional studios on campus.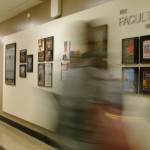 Around Blodgett
Click the image to view the gallery
Get an inside look at some of the special features of our home in Blodgett Hall, and see our talented faculty in action.